News/Events
"Ahead of the Game" 2017 Iowa Concussion Conference
Thursday, August 10th, 2017
Sheraton - West Des Moines, Iowa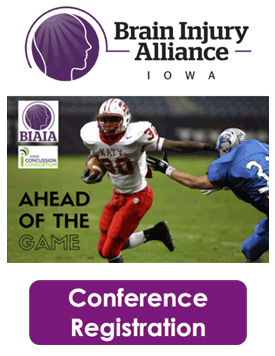 Coinciding with Concussion Awareness Month, the Brain Injury Alliance of Iowa (BIAIA), Iowa Department of Public Health, Iowa Department of Education, and Iowa Concussion Consortium (ICC) will host the first annual Iowa concussion Conference on August 10th, 2017.
The event kicks off an ongoing statewide education intiative to provide consistent, reliable, evidence-based information about concussion and other brain injury to Iowa's coaches and educators, as well as to students and their parents or guardians.
Conference attendees will learn about REAP (Reduce • Educate • Accommodate • Pace) Protocol for concussion management, which was developed in Colorado and has been recognized nationally as an optimal model for safely returning youth athletes to the classroom and the playing field after a concussion.
Registration
Medical Professionals $75
Educators/Athletics $25
Individuals/Families $25
Register now at: https://biai.memberclicks.net/upcoming-events
---
Brain Injury Public Forum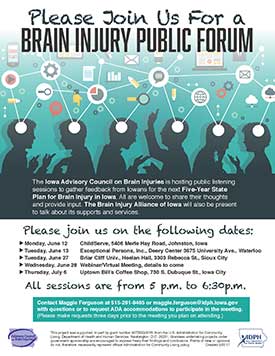 Please join us for a Brain Injury Public Forum. The Iowa Advisory Council on Brain Injuries is hosting public listening sessions to gather feedback from Iowans for the next Five-Year State Plan for Brain Injury in Iowa. All are welcome to share their thoughts and provide input. The Brain Injury Alliance of Iowa will also be present to talk about its supports and services.
Please join us on the following dates:
Monday, June 12 - ChildServe, 5406 Merle Hay Road, Johnston Iowa
Tuesday, June 13 - Exceptional Persons, Inc., Deery Center 3675 University Ave., Waterloo
Tuesday, June 27 - Briar Cliff Univ., Heelan Hall, 3303 Rebecca St., Sioux City
Wednesday, June 28 - Webinar/Virtual Meeting, details to come
Thursday, July 6 - Uptown Bill's Coffee Shop, 730 S. Dubuque St., Iowa City
All sessions are from 5pm to 6:30pm
Contact Maggie Ferguson at 515-281-8465 or maggie.ferguson@idph.iowa.gov with questions or to request ADA accommodations to participate in the meeting. (Please make requests three days prior to the meeting you plan on attending.)
---
OU Parental Support/Advisory Meeting
The OU Parental Support/Advisory meeting will be held at 11:00am, Saturday, June 17th at the OU Center. Families of residential and waiver clients are encouraged to attend. Staff members are also welcome. For further information contact Mary Frances Stoneburg at 712-203-9177.
---
Managed Care Organizations (MCO)
As of April 1, 2016, most Iowa Medicaid programs will be joined together in a single program called IA Health Link. The new IA Health Link program is designed to give current Iowa Medicaid members access to high quality care coverage through a managed care organization, or MCO. Learn more about it here.
---
News
OU Leader: A Quarterly Publication of Opportunities Unlimited.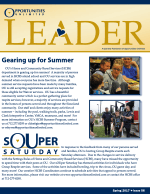 Previous Editions
Winter 2017
Fall 2016
Summer 2016
Winter 2015
Fall 2015
Summer 2015
Spring 2015
Winter 2014
Summer 2014
Spring 2014
Summer 2013
Spring 2013
Winter 2013
---
Events
October 2016
October 27 - "Trunk or Treating" in the OU Community Center Parking Lot. Trick or Treat with OU staff, persons served, and friends in the community from 5:30 - 7:00 pm.
December 2015
December 5 - OU Person Served Christmas Party - Persons served of OU, along with their friends and families will join together at OU for holiday festivities! 11:00 - 1:00.
November 2015
November 25 - Culinary Delights, Charitable Nights – Minerva's. 10% of the proceeds will be donated to OU's Annual Angels fund to support persons served of OU. Enjoy a special menu prepared by the chef of Minerva's! 4:00 - 10:00.

November 4 - "Providing For and Protecting Your Family" at Opportunities Unlimited. 5:30 - 7:00.
View Invitation PDF
October 2015
October 29 - "Trunk or Treating" in the OU Parking Lot. Trick or Treat with OU staff and persons served from 5:30 - 7:00.
June 2015
June 21 - OU and the Siouxland Cyclists hold the 3rd Annual Summer Solstice Bike Ride/Walk - check our Facebook page for updates as the event nears: https://www.facebook.com/opportunitiesunlimited
July 2015
July 17 - OU "Fore the Children" Golf Tournament - to register visit:
http://opportunitiesunlimited.com/ou-golf-shootout.php